Word
of the day
बशाशत
•
بَشاشَت
Origin - Arabic
Meaning
cheerfulness, joyousness
Proverb of the day
Meaning
difficulties get resolved with time, but people's harsh treatment is never forgotten

Word in
News
Hindustan 75 mamalik ke numayandon ko karega

mad'uu
Oct 19, 2021 | Roznama Rashtriya Sahara
mad'uu
मद'ऊ
•
مَدعُو
Origin - Arabic
Quote of the day
zabaanein murda ho jaati hain, lekin unke alfaaz, muhaavare, alaamaat, aur istiaaraat nayi zabanon mein daakhil ho kar unka juzv ban jate hain.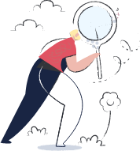 Support Rekhta Dictionary. Donate to Promote Urdu
The Rekhta Dictionary is a significant initiative of Rekhta Foundation towards preservation and promotion of Urdu language. A dedicated team is continuously working to make you get authentic meanings of Urdu words with ease and speed. Kindly donate to help us sustain our efforts towards building the best trilingual Urdu dictionary for all. Your contributions are eligible for Tax benefit under section 80G.
Donate Now